Joaquin Phoenix se vyžívá v rolích nejrůznějších podivínů. Tentokrát si nechal narůst knír, nahodil hipsterské hadry a jal se sbalit počítač. A překvapivě zabodoval.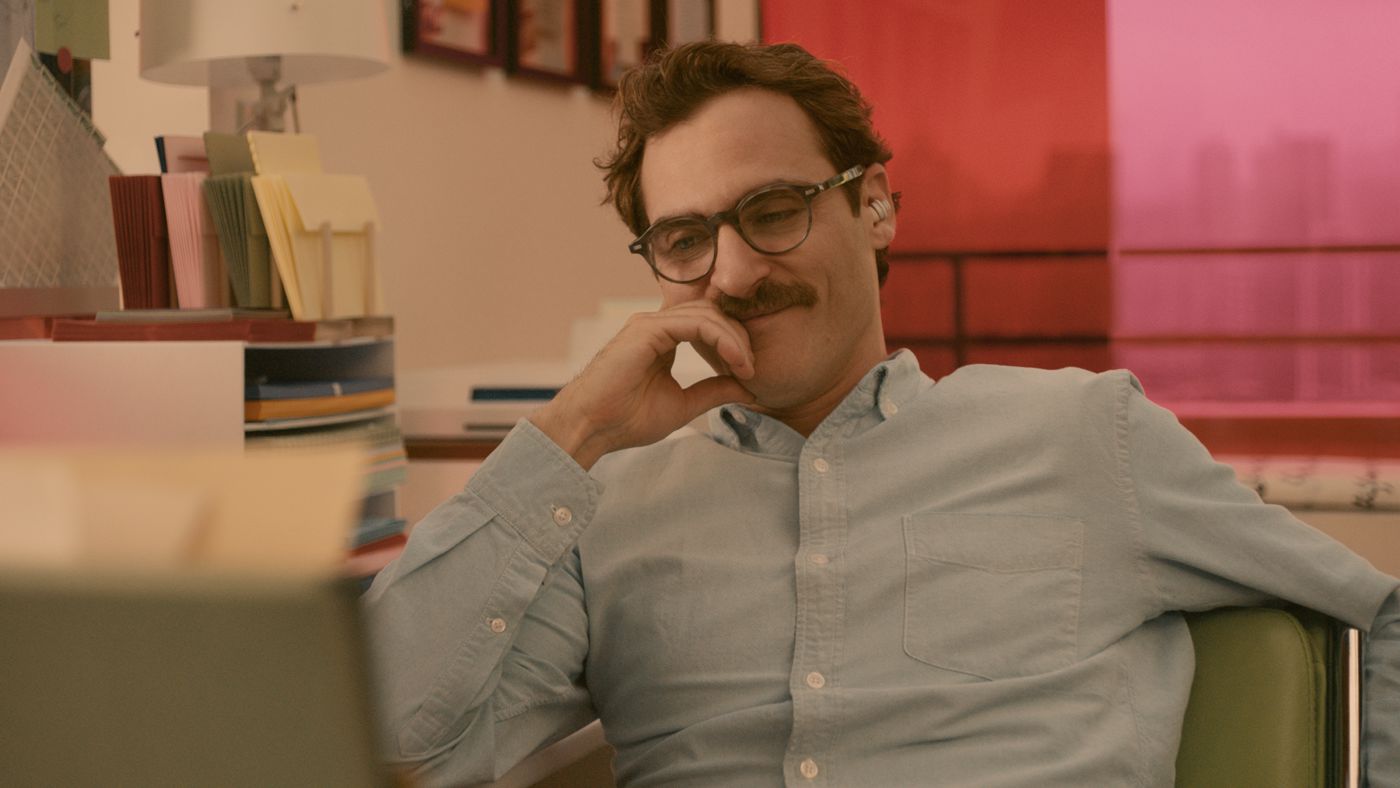 To se tak občas stane, že na určitý film neamerický divák zaměří pozornost až s vyhlášením oscarových nominací. A společně s ním i filmový distributor. To je přesně případ polozapomenutého romantického dramatu Her, který se do českých kin dostává tři měsíce po své premiéře pod názvem Ona.
Pravda, při předávání letošních Oscarů samotný film moc nebodoval – z pěti nominací (včetně té za nejlepší film) proměnil přesně nulu. Ale ono je to někdy lepší, zvlášť když si uvědomíme, jaké patetické fláky jsou nejen v posledních letech odměňovány (zdravíme Bena Afflecka a Stevea McQueena).
Na tuhle budoucnost se těšíme
Film Ona je zkrátka jiný, komornější, bez odvážných hrdinů nebo prohnaných záporáků. Děj se odehrává v blízké budoucnosti, kdy lidé už ani nezvládají si sednout a něco napsat, nebo si jenom přečíst mail. Co potřebují, nadiktují svým chytrým přístrojům, které za ně všechno vyřídí.
Těžko říct, jak blízká nám tato doba vlastně je. Režisér Spike Jonze si dával záležet na tom, aby nebyl moc specifický. Nicméně není těžké uvěřit, že mnohých vychytaných technologií se dožijeme i my. Kdo by doma nechtěl mít v obýváku obří 3D playstation, který vám dá najevo svou nelibost, pokud si ho dlouho nevšímáte?
V téhle šílené době se snaží přežívat Theodor (Joaquin Phoenix), komplikovaný samotář s vizáží chlápka, vedle kterého byste si v parku na lavičku rozhodně nesedli. Živí se tím, že píše osobní dopisy za lidi, kteří na to nemají čas – samozřejmě tím, že je diktuje. Jednoho dne si domů pořídí operační systém, který si říká Samantha. A co by to bylo za romanci, kdyby se tahle nesourodá dvojice do sebe nezamilovala.
Hlavní hrdinku vůbec neuvidíte
Pravda, zní to trochu bizarně. Ale v době, kdy mají lidé hlasy svých operačních systémů permanentně v uchu a udržují s nimi kvalitnější vztahy než s vlastní rodinou, není těžké téhle netradiční lásce uvěřit. Navíc Joaquin Phoenix, maskovaný za kostěnými obroučkami a odpornou housenkou pod nosem, dokázal prakticky jen pomocí mimických svalů ve vypjatých situacích předvést strhující výkon.
Podmanivě nakřáplý hlas operačnímu systému propůjčila Scarlett Johansson. Její fanoušky ale zřejmě zklameme, tahle sexy bloncka se na plátně neobjeví ani na vteřinu. A to je ze strany Spika Jonzeho překvapivě odvážný přístup. Bylo by totiž lehké v době ultramoderních technologií zprostředkovat obličeje operačních systémů například přes monitor (a zřejmě by to do kina nahnalo více diváků).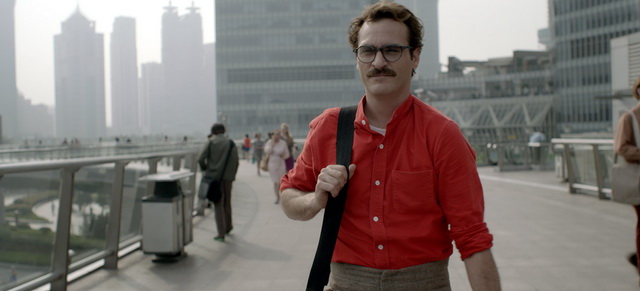 Mnohým se určitě vybaví svérázná postava Hollyho z Červeného trpaslíka. Stejně jako on, i Samantha má svoji osobnost, která se vyvíjí, a z počítače se stává spíš člověk bez vlastního těla. Logicky se tak dostavují i klasické lidské vlastnosti typu nejistota nebo žárlivost – v takovém okamžiku Ona funguje jako každá jiná romance.
Moc tomu nepomáhá ani fakt, že vztah člověka a operačního systému se posouvá po vcelku předvídatelné ose, i když samotné rozuzlení se vymyká standardním romantickým klišé.
Verdikt Nely Christovové:

I když kníratý Joaquin Phoenix předvádí působivý výkon a Scarlett Johansson vás uhrane sexy chraplákem, sci-fi romance Ona rozhodně nesedne každému. Absence téměř jakéhokoliv děje z filmu dokáže chvílemi udělat rozplizlou podívanou. V jiných okamžicích vás ale donutí přemýšlet o propojení člověka a stroje. A není těžké uvěřit, že by to mohlo vypadat přesně tak jako ve filmu Spika Jonzeho.
Hodnocení: 80 %
Verdikt Oldřicha Mánerta:

Námět na krátký film v celovečerní podobě nefunguje téměř nikdy. Výjimky však existují a Ona je jasným důkazem. On je osamělý a pořídí si speciální operační sytém se sexy hlasem Scarlett Johansson. Zamiluje se a… to je asi tak všechno. Spike Jonze naštěstí funguje zejména na pocitové vlně a na diváka valí jednu emocionální scénu za druhou zabalenou do nádherné práce s kamerou v podání Švýcara Hoyte Van Hoytemy. "Pocitovka", která vás buď rozloží na molekuly, nebo unudí k smrti.
Hodnocení: 90 %
Hodnocení redakce: