Představte si, že takhle jednou odletíte do New Yorku a ve vaší zemi mezitím proběhne velký politický převrat. A vy uvíznete v mezinárodním prostoru jako bezdomovec žijící na letišti.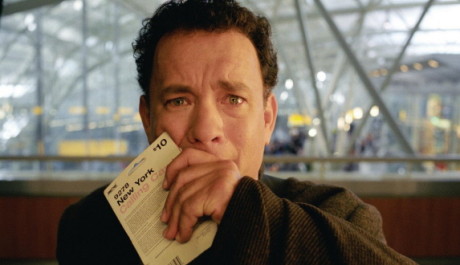 Přesně to samé zažil také Viktor (Tom Hanks), který přilétá do New Yorku z daleké Krakozie, aby na přání svého zesnulého otce získal podpis člena jedné jazzové skupiny. Tam mezitím dojde k politickému převratu a Viktor zůstane uvězněn na letišti, protože jeho země zrušila právo vycestovat a Spojené státy mu nechtějí uznat vízum.
Mohlo by se zdát, že žít na letišti, kde musíte jíst krekry slepované hořčicí a kečupem a holit se na pánských záchodech, je ponižující a nikdo o to nestojí. Pravda, ale pokud vám do cesty vstoupí krásná letuška Amelia (Catherine Zeta-Jones), možná vás to přestane tolik štvát.
Shodneme se určitě na tom, že uvíznout na letišti jako člověk, který nikam nepatří, je dost nepříjemné samo o sobě. O to horší je fakt, že kromě Krakozie a zaměstnanců letiště se chyb dopustili i tvůrci filmu a ubohého Toma Hankse v tom vymáchali ještě víc. Sami se o tom můžete přesvědčit v sobotu 27. 7. na Nově v 17:10 nebo v repríze o den později na Nova Cinema.
Chyby ve filmu
1. Když Dickson vysype na Viktora balíček chipsů, má bramborové lupínky úplně všude. V dalším záběru má však jen pár drobků na rameni, které decentně smete rukou. Že by měl tak velký hlad a během těch dvou vteřin je stihl sníst?
2. Jisté rozpory vznikly pochopitelně také kvůli zmíněnému vízu a potřebným povolením pro vstup do země. Bez platného víza by totiž Viktora nemohli pustit ani k východu letiště, kde mu oznámili, že dál již nemůže. Technicky vzato už to byla půda USA a pobyt po celém letišti mu nemohl být dovolen.
3. Když Viktor tráví první noc na letišti, v člověku se cosi sevře a začíná tuhle ubohou postavičku, která se ani neumí domluvit, litovat. Umocnit by to mělo především i krátké pomodlení před spaním, kterému ale ubírá na důvěryhodnosti fakt, že Viktor nedodrží správné pořadí při křižování. Po hlavě a prsou by se měl dotknout levého ramena a poté přejít k pravému, ale on to udělá přesně naopak.
4. I mistr střihač se někdy utne. A to platí i u Terminálu, kde se střihové chyby množí jako houby po dešti. V některých scénách je vidět, že komparzisté přichází dvakrát z téže strany. Při romantické večeři Viktora a Amelie se zase pravidelně mění hladina vína ve skleničce, a když si Dickson vytahuje z kufříku svačinu, při každém střihu leží na stole někde jinde.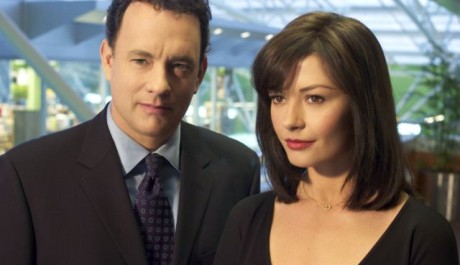 5. Ve chvíli, kdy Viktorovi upadne jídlo na zem a on se rozhodne nepořádek uklidit, si bere mop stojící opodál. Ozve se zvuk máchání a kapající vody na podlahu, ale když se pozorně podíváte, mop není vůbec mokrý a nezanechává za sebou žádné stopy. Ale těžko říct, třeba se jen letiště JFK nacházelo poblíž nějakého vodopádu. Nebo aspoň fontánky.