The Beatles není třeba představovat. Britská kapela z 60. let dokázala během své relativně krátké kariéry pobláznit miliony dívek a žen a pro spoustu hudebních kritiků i posluchačů zůstala nepřekonanou dodnes.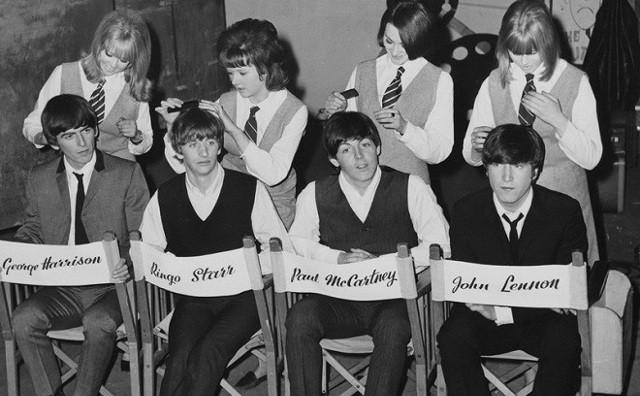 Zatímco na původní členy Peta Besta a Stuarta Sutcliffa se už dávno zapomnělo, čtveřice John Lennon, Paul McCartney, Ringo Starr a George Harrison se uchovala v paměti všech následujících generací. 10. dubna už to bude neuvěřitelných 44 let, co kapela oznámila svůj rozpad a způsobila doživotní trauma všem svým fanynkám po celém světě.
Ani po smrti Lennona a Harrisona ale sláva Brouků neupadá a nejen díky jejich skladbám jsou vzpomínky na ně denně oživovány. Pojďme si připomenout snímky, ve kterých se nám filmoví tvůrci snažili přiblížit život nejúspěšnější kapely všech dob.
1. Perný den
Snímek, v němž se naplno projevila první vlna beatlemánie, mapuje jeden den v životě Beatles, kdy je štáb doprovází cestou vlakem až do hotelu a následně do televizního studia. Kromě hitů jako She loves you, I should had known better či Hard day's night, po kterém je film pojmenován, doprovází tento dokument specifický britský humor a samozřejmě ječící fanynky, které přehlušují veškerou hudbu.
Svůj název získal Perný den údajně díky Ringo Starrovi. "Jednou jsme makali celý den, který se postupně přehoupl v noc, a já to ani pořádně nezaznamenal. Řekl jsem: To byl vážně perný den… a když jsem se rozhlédl kolem a uviděl tmu, rychle jsem dořekl …noc! Tak získal film své jméno," tvrdí Starr. Ať už je příběh pravdivý nebo ne, prvotina britské skupiny získala za tuto komedii dokonce ocenění za Nejlepší britský film roku 1964.
2. Pomoc! (Help!)
O rok později už se Beatles pěkně vybarvili, a to doslova. První barevný snímek v jistém smyslu navazoval na Perný den. Richard Lester, který režíroval i výše uvedený film, se rozhodl méně spoléhat na poblouznění kapelou a raději vsadil na příběh a jeho zpracování. Údajně se nechal inspirovat muzikální komedií Kachní polévka bratrů Marxových – s jistou příměsí příběhů Jamese Bonda. A s menší pomocí jointa.
Jak totiž později Starr a McCartney přiznali, větší část filmu byla natočena v marihuanovém oparu. "V jedné scéně máme s Paulem utíkat před kameny, které mají vybouchnout. Při natáčení jsme se rozběhli a nemohli se zastavit, při tom opojení bychom byli schopní utíkat až do Švýcarska. A vůbec – když si prohlédnete pořádně fotky z natáčení, máme tam oči červené jako králíci, byli jsme úplně mimo," netají se Ringo.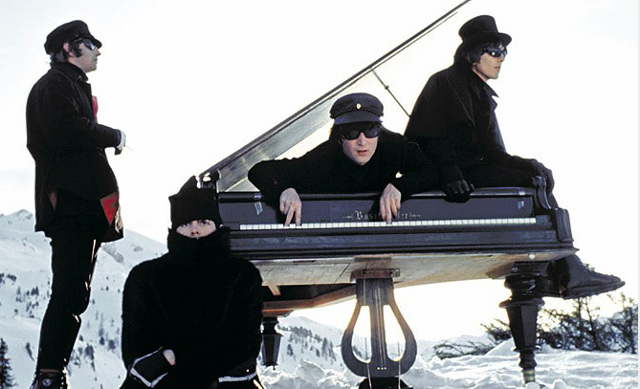 3. Žlutá ponorka
Rok po vydání desky Sgt. Pepper's Lonely Hearts Club Band se Beatles odvážně vrhli do vln animovaného filmu. Pokud nebyl vliv omamných látek patrný u snímku Help!, věřte, že Žlutá ponorka to divákům stonásobně vynahradila. V Pepperlandu totiž všichni žijí šťastně pod ochranou Kapely Klubu osamělých srdcí Seržanta Pepře do doby, než je nepřátelé hudby Modráci uvězní v obří bublině, promění všechny obyvatele v sochy a celou zem pokryje modrá barva.
Naštěstí se starost Pepperlandu spojí s Beatles a ve žluté ponorce plují zachránit to, co zbylo z pepřové země. Žádný z beatlesáckých filmů nejspíš nebyl tak často charakterizován slovem ujetý a dodnes jej spousta lidí považuje za jeden z nejlepších psychedelických snímků vůbec. Rozhodně se mu nedá upřít perfektní vystihnutí 60. let, kdy normální člověk vypadal právě jako snílek plující na obláčku kolem duhy a jeho nejoblíbenější písní byla pravděpodobně Travička zelená.
4. Magical Mystery Tour
Televizní film byl prvním, který si Beatles sami napsali a režírovali, ale bohužel také prvním, který kritika rozcupovala. Mystery tours byly v Británii zvlášť oblíbené výlety, které obvykle trvaly jeden den a cíl znal pouze řidič autobusu. Motiv cestování už však byl ze strany kapely poněkud opotřebovaný a jediné, co snímek zachránilo, byla hudba. Po mimořádném úspěchu Žluté ponorky to byl pro Beatles první výraznější propad.
Také samotní členové se na tento pokus dívají s rezervou a s kritikou si příliš těžkou hlavu nedělají. "Neříkáme, že je to dobrý film. Byl to náš první pokus, a pokud jsme to podělali, tak jsme to podělali. Byla to výzva a zkrátka to nevyšlo," myslí si McCartney.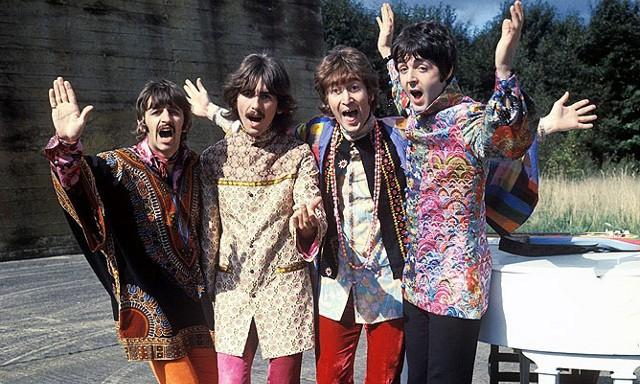 5. Let it be
Rok natáčení Let it be byl zároveň zlomovým rokem celé kapely. Oficiálně přestali koncertovat a mezi Lennona a McCartneyho výrazně vstoupila osudová Lennonova manželka Yoko Ono, která je dodnes považována za hlavní důvod, proč se skupina rozpadla. Dokument mapuje poslední okamžiky Beatles, hlavně při natáčení stejnojmenné desky Let it be a jejich posledního koncertu, který neohlášeně odehráli na střeše nahrávacího studia.
Skutečnost, že si tu John, Ringo, Paul a George nehrají na komedianty, ale naopak nechají fanoušky nahlédnout do zákulisí skutečné práce, při níž vzniká nejeden ostrý konflikt, z tohoto celovečerního filmu udělala nejcennější dokument kapely vůbec. Už jen proto, že příznivcům Beatles ukázal, že někdy je lepší násilně nepředstírat fungující celek, ale radši to nechat být. Let it be.