Poslední listopadový týden je přehlcen snímky z francouzské dílny díky včera zakončenému Festivalu francouzského filmu. Pro méně náročného diváka jsou připraveny Pozdravy ze spermabanky, pro nejmenší pak animované Ledové království.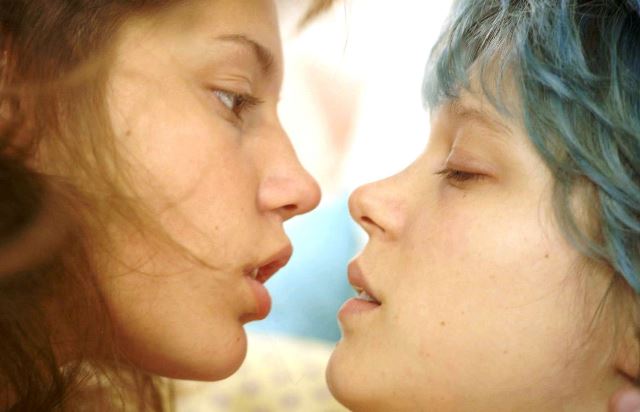 Život Adele (La Vie d'Adèle)
Adèle je běžnou dívku z průměrné francouzské rodiny. Při studiu pracuje jako vychovatelka v mateřské školce a pomalu se začíná připravovat na běžný stereotypní rodinný život. Jednoho dne však potká modrovlasou Emmu, která ji obrátí celý život o 180 stupňů. Vzbuzuje v ní před tím nepoznané emoce, kterým se Adèle nemůže ubránit. Objevuje svou homosexuální orientaci a postupně i pohlavní život. Problém však nastane ve chvíli, kdy se o lásce Adèle dozví její konzervativní rodina.
Snímek si svou premiéru odbyl na letošním festivalu v Cannes, kde mnohé přítomné překvapil otevřeností sexuálních scén. Následně byl v mnoha zemích znepřístupněn mladistvým do sedmnácti let. Bližší informace o filmu naleznete v našem preview.
Konzultant (The Counselor)
Nový snímek Ridleyho Scotta Konzultant vypráví příběh muže se stejným označením (Michael Fassbender), který se přičiněním majitele nočního baru Reinera (Javier Bardem) stane součástí nejasného obchodu s drogami. Touha po velkých penězích však muže žene kupředu, a tak se nezalekne ani ve chvíli, kdy hrozí bezprostřední nebezpečí nejen jemu, ale také jeho snoubence (Penelope Cruz).
Snímek Konzultant je filmovou adaptací knihy Cormaca McCartyho, Javier Bardem už v jednom filmu dle jeho předlohy hrál, jednalo se o dílo bratří Coenů Tahle země není pro starý. Natáčení Konzultanta bylo o dva týdny prodlouženo, jelikož režisérovi Ridleymu Scottovi v té době zemřel bratr Tony.
Klauni
Režisér Viktor Tauš natočil podle scénáře Petra Jarchovského komedii o klaunské skupině Busters, která se rozpadla již před dlouhými třiceti lety. V tehdejší totalitní nudě představovala parta tří klaunů – Oskara, Maxe a Viktora – jakási světélka naděje ve tmě. Český národ si je vyloženě zamiloval. O to smutnější pak bylo zjištění, že se vlastně jednotliví muži mezi sebou v partě absolutně nedokáží vystát. Šanci napravit dávné spory získá trojice klaunů ve chvíli, kdy se jeden z nich – Oskar – vrací z emigrace.
Snímek se natáčel v koprodukci hned několika zemí – Česka, Slovenska, Lucemburska a Finska, zmínit by se ještě dala Francie, jelikož právě tam se narodil Didier Flamand, představitel jednoho z filmových hrdinů. Jelikož bylo potřeba ve filmu pozměnit vizáž hned několika hercům, ujal se masek odborník René Stejskal, který proměňoval Martina Dejdara ve Zdivočelé zemi nebo spolupracoval na snímku Wanted. Hodnocení filmu si můžete přečíst v recenzi Pavlíny Nouzové.
Jen 17 (Jeune et jolie)
Po francouzském snímku Život Adele a traileru k Trierově Nymfomance vstupuje do českých kin další eroticky laděný film. Tentokrát o mladé dívce (Marine Vacth), která nalezne zalíbení v sexu. Poté, co jí neznámý muž na ulice poprvé nabídne peníze za pohlavní styk, zjistí, že ji práce prostitutky vlastně baví a naplňuje. Bohužel si neuvědomuje svůj věk a o to víc je překvapená matčinou reakcí, když se dozví, jak se její dcera vlastně živí.
Jen 17 režiséra Francoise Ozona zvítězil na MFF v San Sebastianu a byl nominován na Zlatou palmu na letošním festivalu v Cannes. Více o filmu si můžete přečíst v našem preview.

Pozdravy ze spermabanky (The Delivery Man)
Skoro čtyřicetiletý David Wozniak (Vince Vaughn) se tak nějak protlouká životem, netouží po velké kariéře, střídá přítelkyně jak na běžícím pásu a vlastně téměř nic neřeší. Jednoho dne se však dozví, že je otcem 533 dětí a život se mu obrátí naruby. Jak se to stalo? Před dvaceti lety totiž daroval tolik spermatu, že z něj mohlo vzniknout právě tak závratné množství dětí. Ačkoliv je David zprvu pln obav, po chvíli se k nelibosti svého právníka rozhodne všechny své děti postupně poznat.
Ledové království (Frozen)
Mladá dívka Elsa pomocí svých nadpřirozených schopností uvěznila království Arendelle do kruté a nekončící zimy. Právě proto se její mladší, nebojácná sestra Anna vydává společně s horalem Kristoffem a jeho sobem Svenem na výpravu, jejíž cílem je nalézt Elsu a donutit zrušit ledovou kletbu na království. Cíl je však daleko, cesta dlouhá a tak zažívá Anna, Kristoff a Sven spoustu dalších dobrodružství.
Celý snímek je inspirován pohádkou Hanse Christiana Andersena Ledová královna. Režie se ujalo duo Chris Buck, který stojí za filmy Divoké vlny nebo Tarzan, a Jennifer Lee, jež je autorkou scénáře k loňskému Raubíři Ralfovi. Další informace si můžete přečíst zde.
Parchanti spí dobře (Les Salauds)
Manžel Sandry, majitel rodinného podniku, spáchal sebevraždu. Její okolnosti zůstávají nevyjasněny. Psychické problémy dcery Justin se začínají prohlubovat a na Sandru toho začíná být moct, má-li se ještě starat o chod firmy. A tak se vrací její bratr, námořní kapitán Marco Silvestri (Vincent Lindon), který zjišťuje, že za sebevraždou Sandřina manžela by mohl stát mocný obchodní magnát Edouard Laporte. Aby se mu Marco mohl řádně pomstít, stěhuje se domu, kdy žije Laporteova milenka se svým synem. Postupně však zjišťuje, že nic není tak, jak se zdá.
Show!
Bohdan Bláhovec, naděje českého dokumentu, absolvuje FAMU snímkem Show!, který sleduje od naprostého vzniku dívčí pěveckou skupinu 5Angels. Ukazuje nám nelítostný svět dětského showbusinessu, který je v konečném důsledku celý postavený na ambicích jednoho z rodičů, nikoliv dětí samotných. Recenzi snímku Show! od Pavlíny Nouzové si můžete přečíst zde.